Meal Prep Made Easy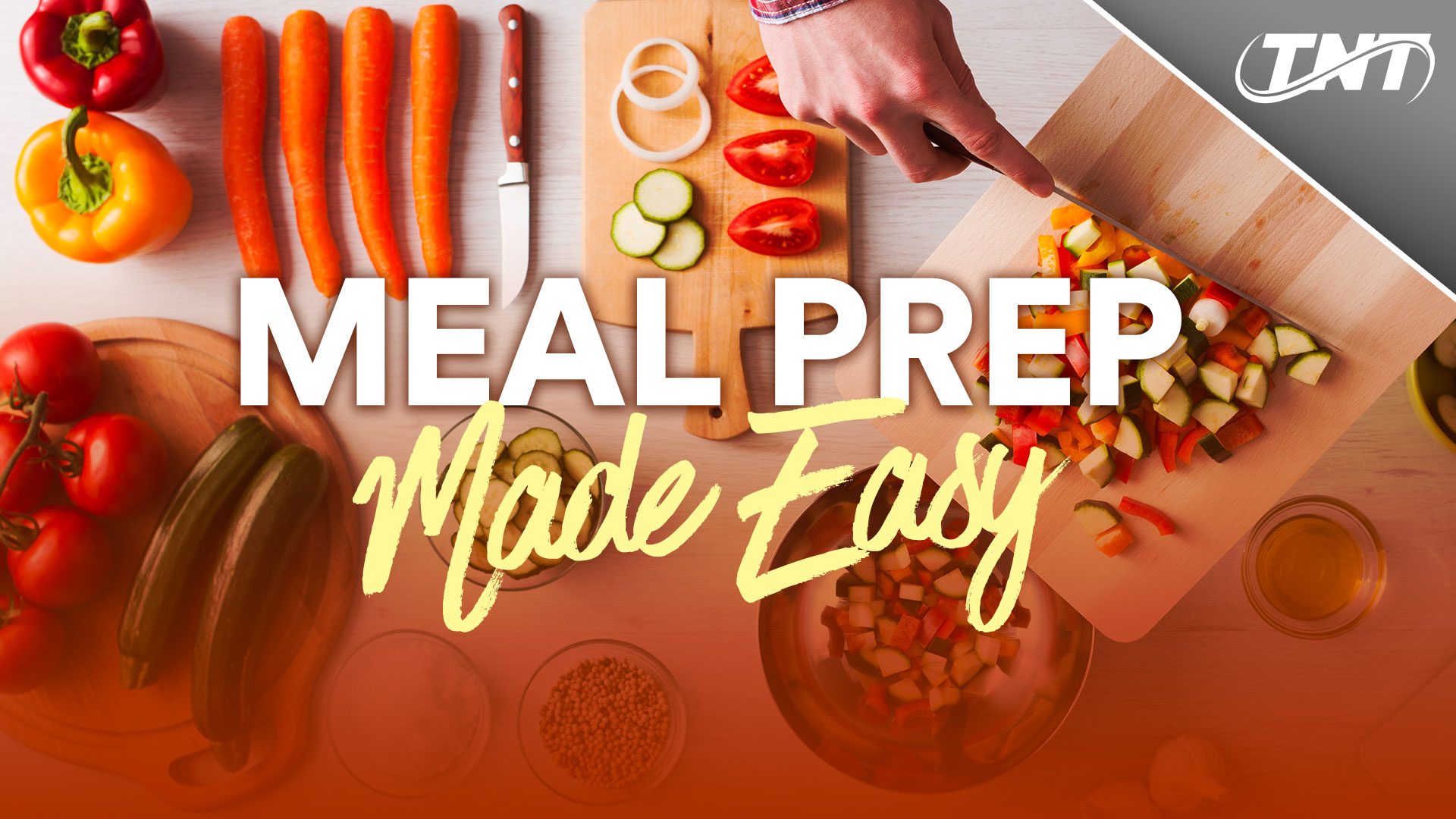 Most of us are your average every- day kind of person. We have jobs, families, and other hobbies that keep our schedules pretty jam packed. We don't have many extra hours, multiple times a day to cook 4-6 meals or the extra funds to utilize a meal prep company. Stressing over what to make for lunch or needing to make a daily trip to the grocery store shouldn't be where you focus the majority of your energy! We have a little system that helps us toss meals together quickly without sacrificing flavor or quality. You'll see that a little preparation of some basic foods, will go a long way.
Fruits & Veggies: This one is simple and typically only needs to be done twice, maybe three times a week depending on your intake quantity. Most of us have our go-to fruits and vegetables that we try to eat regularly. When you get home from the store, anything you typically eat cut-up, do it now. Cut them up, put them in Tupperware, and into the fridge. Now we all know once you slice an apple the freshness is never the same. So for fruits like this, leave them until you're ready to use them. For everything else....get it prepped and ready to be weighed. For example. We enjoy adding some veggies to our omelets. Typically zucchini, green pepper, sweet potatoes, onions. So in the fridge you can find a Tupperware of diced green pepper, sweet potatoes, onion and zucchini slices. Now when we're making our go-to omelet for breakfast we aren't spending a portion of our time cutting up those veggies....every. single. morning! If you buy fruit, wash them and put them in an easy to access container. Make your foods easily accessible. Other examples of how you can prep two of our favorite volume filled veggies ahead of time are: zucchini noodles for pasta or bake a spaghetti squash and shred it up for pasta and even as hash browns. The easier it is to get to, the more you'll find yourself utilizing it.

Meats: This one is a HUGE time saver. We all know it takes a good 30-45 minutes to bake chicken and around 30 minutes to trim, pan sauté, and clean up. So why not do it ahead of time? Whether you prefer it baked or enjoy it pan cooked on the stove top, cook a large batch at once. When the chicken is finished, put it in a container in the fridge. According to foodsafety.gov, cooked chicken is safe to store in the fridge for up to 3-4 days. Same goes for a package of ground turkey or beef. Cook it ahead of time and keep it in containers for an easy go to. What will you do with all this meat, you ask? You just made a main protein source easy to reheat and add to burrito bowls, tacos, pasta dish, salads, and the list goes on.

Rice: Pre-cooking rice ahead of time can get tricky. But that's why we're here! If you refer back to our blog 'How To Track Macro Recipes In My Fitness Pal' we take you through the steps on how to figure out the macros for a large dish. In this case, your dish is just rice (can also use this for ground turkey/beef if you feel you don't want to find an already cooked version in MFP for the macros). This helps tremendously for cutting down time when wanting to add in some extra carbs!

Utilize Your Freezer: Frozen food has a much longer storage life and can come in handy for a few reasons! Some people find it easier to utilize frozen vegetables instead of fresh. In this case, they defrost quickly in a pan over the stove top with a little water or even in the microwave. Some companies even make steam-able pouches of vegetables and rice specifically for microwave use if you prefer that route. These can easily be added to any dish as well. **Time- Saver Tip** If you're using frozen vegetables and packing them in a meal to be reheated later, for example at work, don't pre-cook them! Put them in your Tupperware frozen, keep it in the fridge, and when you heat up your lunch or dinner in the microwave- the veggies will heat/cook! No sense in double cooking when you know you'll be reheating that meal at a later time.

Having frozen fruits on hand is helpful for many reasons, but primarily we all know how quickly they go bad if you don't eat them regularly! You could keep them in frozen bags separately or even measure out and divide them into pre-calculated "smoothie bags". This way it's easy to grab, blend, and go! When blended, cut up frozen bananas actually make a nice frozen treat with a texture similar to ice cream. Even adding some frozen blueberries to your oatmeal not only adds in some extra micronutrients, but gives it a great flavor (and color) boost! Just because they're frozen doesn't mean they can't be used right now.
Frozen meat that is fast and easy can come in handy, even if you prefer to only use it in a pinch. Tyson brand has a grilled and ready version for chicken that is pre-cooked and only requires heating per package directions. These can be utilized in any meal idea like previously mentioned under 'Meats'. They're found at most local grocery stores and are reasonable in price. Trident Alaskan Salmon Burgers or High Liner Tortilla Crusted Tilapia are both fish options that cook relatively quick (10 minutes) from frozen and can be found at Cotsco as well as other stores. The best part, all three frozen meats mentioned are macro-friendly as well! So if you're running late and it becomes a last resort, you still aren't breaking your macro bank!
Having the basics prepped and ready to measure, heat, and eat makes meal time fast, easy, and tasty! This is a great time saver for those on the go, for kids who are hungry now, or for anyone who just doesn't feel like going through the cut, cook, and clean-up multiple times a day. Whether you're prepping your lunches for work or to enjoy at home, we find this not only is time efficient, but helps us stay on track with our macros and overall goals. When food is readily available, there's no excuse of not having time, not feeling like it, or just not being able to cure of the 'hangry' before reaching for something you may regret later!